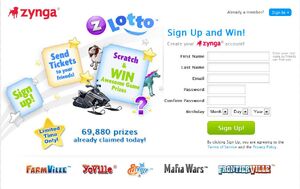 The Zynga Lotto is over.

"The Zynga Lottery has come to an end.
Thanks for your participation!
Watch for more fun stuff from Zynga soon!"
The Zynga Lotto is a subdomain of the Zynga.com website. This is the only way to get a Red Goat, Red Sheep, Red Cow or Red Horse.
To play this game, you must sign up here (The Lottery is over) for the Zynga Lotto account. You then will receive an email to confirm your email address & account. Users are then given 1 free play.
Every day you receive 1 free play ticket. It's recommended you bookmark the page to return every day for more chances at prizes. There is a link which will bookmark the page for you. You can receive 20 additional tickets from friends daily, and send 20 tickets out daily as well.
Essentially you scratch 3 of 9 of the squares on the card. If a star with a number pops up, you win the prize associated with that number.
On August 31st, 2010, Zynga changed it so users could place only 1 of each on their farm - if you already have more than 1, you will keep your animals, but won't be able to place more of them onto your farm.
Set 1
Set 2
Set 3
Set 4

Red Goat
(harvest 54 coins every 2 days or 27 coins/day)

Red Sheep
(harvest 28 coins every 3 days or 9.3 coins/day)

Red Cow
(harvest 6 coins every day or 6 coins/day)

Red Horse
(harvest 80 coins every day or 80 coins/day)
Loading Screens
Edit
Community content is available under
CC-BY-SA
unless otherwise noted.