Zing the elf


—Image © Zynga
Information

Farm:
all
Required minimum level(s):
see Template:infobox-quest for template instructions
Date(s):
First Available:
December 3, 2010
Last Available:
March 31, 2011

| | | |
| --- | --- | --- |
| none | Winter Wonderland Quest | none |

Total # of goals:
3
Rewards:
Sharing Bonus(es):
The subject of this section was part of the Winter Holiday Event (2010), an event that lasted from November 24, 2010 until January 31, 2011. Since the event has run its course, this may no longer be available.
The Winter Wonderland quest was released as part of the Winter Holdiay. The Winter Wonderland quest is a series of four quests in FarmVille. It began rolling out to players on December 03, 2010 (in association with the Winter Workshop). It was presented by Zing the elf. Upon completion of each quest, farmers received a reward. Completing the fourth and last quest would award the farmer an unlimited Holiday Snow & Lights.
Some of the tasks can be skipped by paying

  cash
Tasks to Complete in Each stage
Edit
Quests
Tasks Required
Rewards
Quest 1

Place 1 Winter Workshop on your farm
Buy 1 Candy Arch from the market (decorations)
-
 2,500 coins
 100 experience
1 Pine Tree
Quest 2

Change landscape to snow blanket
Place 4 Parts in your workshop.
Get 6 Holiday Lights
(Ask Friends)
Skip 10
 5,000 coins
 250 experience
1 Silver Nutcracker
Quest 3

Complete 1 Winter Workshop (12 Parts)
Skip 12
Harvest 100 Spinach
Skip 8
Harvest 100 Strawberries
Skip4
 7,500 coins
 500 experience
1 Holly Arch
Quest 4

Get 6 Holiday Cookies
(ask friends)
Skip 10
Harvest Your Winter Workshop 2 times
(Once Daily)
Skip 5
-
 15,000 coins
 1,000 experience
unlimited Holiday Snow & Lights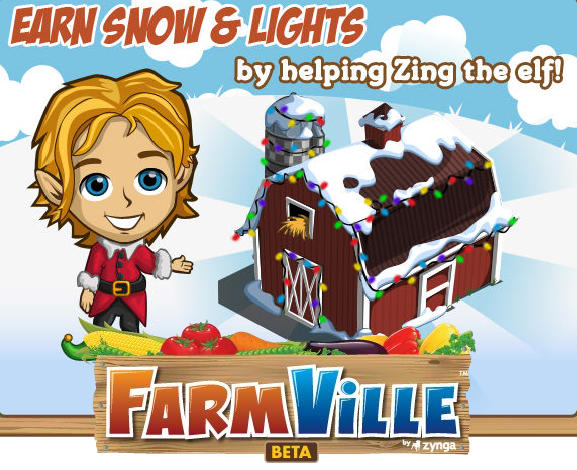 See also
Edit
By Year
Un-timed Quests
(Quest Manager)
By Farm