Whitewash Fences are the cheapest fences available on FarmVille. They can be purchased in the Market for

 300 coins, or they can be received as a gift. They normally occupy an area on the farm one square by five squares, but they can be overlapped at the end post, so that two fences could occupy a space one square by nine squares (1x9), three connected fences would occupy a space one square by thirteen squares (1x13).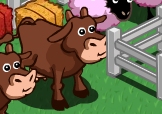 There seems to be a problem with its opacity, as animals sometimes seem to stand "inside" the fence.
Community content is available under
CC-BY-SA
unless otherwise noted.