The Summer Fun Countdown is an activity in FarmVille that lasted for 12 days. It started on June 5th, 2012.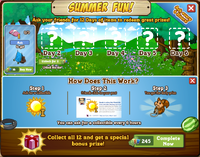 During the event, Farmers could ask/send neighbors a special item each day, called "item of the day". If the farmer missed a day, then they still could buy the missed item of that day with

FarmVille Cash or ask neighbors for it. After collecting all 12 items, the farmer will be rewarded with a special bonus prize, which is a

Summer Stallion.
The difference between this countdown and previous similar countdowns, is that you can collect more that 1 "item of the day", and that is determined with the number of the day. These can be posted on the wall every 6 hours and each friend can help 1 time per 1 post.
Note: These prizes will also be available to purchase from the market for

FarmVille Cash.
Released offsprings during this event:
Edit
See Also
Edit
Community content is available under
CC-BY-SA
unless otherwise noted.