A Pet on FarmVille is similar to an animal, being animated and able to wander on a farm. They are slightly different, however, in that they are not able to be harvested and can follow a farmer around. You can choose its gender, color, name it then place it on the farm. When they grow into adults, they can help out on the farm and they can also be trained to perform Pet Tricks by feeding them Dog Treats.
From March 2012 Pet Dogs are no longer available in market!
Dogs are currently the only type of pet. This lists all existent pet dogs in the game. Greyed-out dogs are limited edition animals that might not be available anymore. Animal dogs are not listed.
Name
Puppy
Adult
Level
Cost
Sell for
XP
Special Tricks
Border Collie
1
 65 cash or
 300,000 coins
 15,000 coins
500 XP
Harvest 20 animals (Herd)
Golden Retriever
1
 65 cash
 15,000 coins
500 XP
Fetch
Dachshund
1
 65 cash
 15,000 coins
500 XP
Fetch
Heeler
1
 65 cash
 15,000 coins
500 XP
Harvest Cows
Husky
1
 65 cash
 15,000 coins
500 XP
Fetch
Sheep Dog
1
 65 cash
 15,000 coins
500 XP
Harvest Sheep
Shiba Inu
1
 65 cash
 15,000 coins
500 XP
Fetch
Terrier
1
 65 cash or
 5,000 coins
 15,000 coins or
 250 coins
500 or 50 XP
Harvest Ducks
St. Bernard
1
 65 cash
 15,000 coins
500 XP
Fetch
The Shiba Inu was a limited time pet, they came as part of the Japanese Garden Collection.
The cost for the Golden Retriever, Sheep Dog, and one type of Border Collie is 65 Farm Cash. The other type of Border Collie costs  300,000 coins.
The 300,000 coin Border Collie must be fed Puppy Kibble daily for two weeks, which must be purchased from the market or received as a gift from neighbors, or else it will run away.
The 65 Farm Cash dogs do not have to be fed daily; they come with 2 weeks of free Puppy Kibble.
If a player has not trapped his farmer, the dog will follow the farmer on their daily duties.
The animal requires feeding every 24 hours. A timer shows how long till the next feeding is due and when it expires you get a new menu selection to feed it.
If you fail to feed it at that time a new timer starts for another 24 hours after which the animal will run away requiring farm cash to retrieve it fom the pound. However, the time of feeding remains at the original purchase time, that is, if you miss the feed time by 20 hours then feed it, the feed timer will reset to 4 hours, not a fresh 24.
It is therefore prudent to buy your puppy at your regular farming time. They will eventually turn into adults and can be taught tricks.
On April 20, 2010, the 5,000 coin Terrier was released in the market for people with 15+ neighbors.
On May 21, 2010, Heeler Puppies are added on the Market for  65 cash and show up with a 2 weeks' supply of Puppy Kibble.
Pre-Release Information
Edit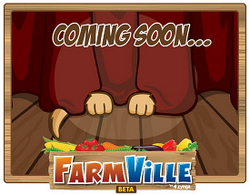 It was confirmed in the January 29th, 2010 FarmVille Podcast that dogs would be released some time in the near future. In the February 19th, 2010 FarmVille Podcast, it was announced that the dog would NOT be a harvestable animal, but a pet. It was also confirmed that the farmer would be able to name the puppy, watch it grow and teach it tricks.
See also
Edit
Community content is available under
CC-BY-SA
unless otherwise noted.