New Year Ball is a decoration in FarmVille. It was part of the Winter Holiday Event. It could be obtained for

 10,000 coins in the Market, or as the first present farmers would open from their Holiday Tree.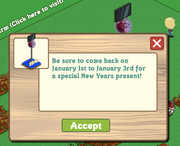 When a farmer visited his or her farm between January 1, 2010 and January 3, 2010, there was a short animation in which the ball dropped and counted down to the new year. As a special reward, the farmer would then gain an extra level. The item also announced the upcoming Free Fuel Week which commenced on January 4, 2010.
Community content is available under
CC-BY-SA
unless otherwise noted.