When a farmer reaches level 3 Crop Mastery for a certain crop, they will receive a Crop Mastery Sign. The sign depicts the crop that they have mastered and can be placed on their farm. It cannot be rotated. The sign reads, "Mastery Sign[Crop Name.]" This is how the Mastery Signs look like when placed on your farm: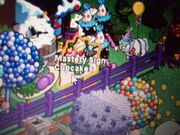 Premium Crops
Edit
Once a farmer achieves Level 3 mastery of a crop, there is a chance that any crop of that type planted in the future will become a "Premium" Crop. Initial reports show that the amount of premium crops is anywhere from 15 to 50%.
A premium crop looks bigger (like a fertilized crop) and provides some experience upon harvesting, depending on the crop type:
Acorn Squash, Aloe Vera, Asparagus, Black Berry, Blueberry, Carrot, Coffee, Cranberry, Ghost Chili, Green Tea, Onion, Pattypan Squash, Pumpkin, Raspberry, Rice, Sugar Cane, Strawberry, Tomato, White Grape.
Grape, Pea, Pepper, Soybean, Sunflower.
Bell Pepper, Broccoli, Cabbage, Eggplant, Pineapple, Squash.
Corn, Cotton, Daffodil, Lavender, Lily, Pink Rose, Potato, Red Tulip, Red Wheat, Wheat.
Artichoke, Cupcakes (limited edition), Watermelon, Yellow Melon.
The requirements to obtain a crop mastery sign depends on the amount of crops you need to harvest.
Check Crop Mastery for more information.
Crop Mastery Signs
Edit
English Countryside Crop Mastery Signs
Edit
Tree Mastery Signs
Edit
Crafted Good Mastery Signs
Edit
Bakery Goods
Edit
Spa Goods
Edit
Winery Goods
Edit
Pub Goods
Edit
Exclusive Goods
Edit
Community content is available under
CC-BY-SA
unless otherwise noted.