The Holiday Tree is a Building in FarmVille. It was released on December 10, 2010 as part of the Winter Holiday Event (2010). The tree stored special gifts, called Holiday Gifts, that you could receive from your friends.
The Holiday Tree works like many of our other item-gathering style events in FarmVille. You acquire Holiday Gifts through various methods, then "Use" them to put them underneath your Holiday Tree. As you accumulate Holiday Gifts under your Tree you can redeem them for exclusive prizes like the Frozen Fence or Icicle Arch.
You can acquire Holiday Gifts by:
Harvesting your Winter Workshop.
Requesting a Holiday Gift from your neighbors directly (by clicking on the "Ask for Gifts" button).
Receive a Holiday Gift from a neighbor who uses the Free Gifts page.
Purchase 5 Holiday Gifts at a time by clicking on the "Buy Gifts" button (for 5 Farm Cash).
Click on a Holiday Gift-related feed where you can receive a Holiday Gift.
As you put Holiday Gifts underneath the tree you'll see candy cane meter on the left fill up. The physical look of the Holiday Tree on your farm also changes depending on how many Holiday Gifts you put into it.
Using Holiday Tree
Edit
you will immediately be entered into Placement Mode. You can place the Holiday Tree on your farm now, or you can choose to place it in your Gift Box for use later. You'll need to be level 5 or higher in order to place and use the Holiday Tree.
Once the Holiday Tree is on the farm you can click on it, then select "Look Inside" to see this window: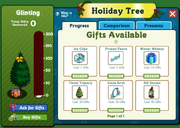 If you wind up selling the Holiday Tree for some reason, you can purchase a new one in the Market for 1 coin; however, farmers were still limited to only 1 holiday tree.
Stage 1
Stage 2
Stage 3
Stage 4
Stage 5
Stage 6
0-9 Gifts
10-49 Gifts
50-99 Gifts
100-149 Gifts
150-299 Gifts
300+

0 to 2 gifts "Glinting"

3 to 9 gifts "Glowing"

10 to 19 gifts "Glimmering"

20 to 29 gifts "Gleaming"

30 to 49 gifts "Glistening"

50 to 74 gifts "Glittering"

75 to 99 gifts "Twinkling"

100 to 124 gifts "Shimmering"

125 to 149 gifts "Shining"

150 to 199 gifts "Sparkling"

200 to 299 gifts "Dazzling"

300+ gifts

"Scintillating"
Redeemable Items
Edit
Fill up your Holiday Tree with gifts and redeem them for special prizes! Then you can send that item to friends as presents that can be opened on December 25, 2010.
Special Prize
Edit
If you reach 300+ Holiday Gifts you will unlock special redeemable option; a Snow Stallion.
You can obtain the Snow Stallion by collecting 500 Gifts.


Community content is available under
CC-BY-SA
unless otherwise noted.