The Hidden Chronicles Unwither is a consumable that was introduced as part of the Zynga's Hidden Chronicles Promotion Event. Unwither lets a farmer restore all withered crops on a farm.
Zynga offers these promotions as an incentive for FarmVille players to play one of their other Zynga games. Hidden Chronicles is Zynga's latest game and as a reward for trying it out to level 6, they reward the players with 10 free Hidden Chronicles Unwithers. There was a Hidden Chronicles billboard on the outskirt of the farm located at the bottom, a simple click on "Play Now" for quick access.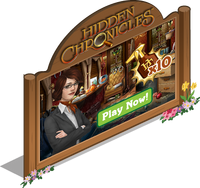 Farm
Farmer
Animals/Pets
Building Materials
Hidden Treasure
Other
Community content is available under
CC-BY-SA
unless otherwise noted.