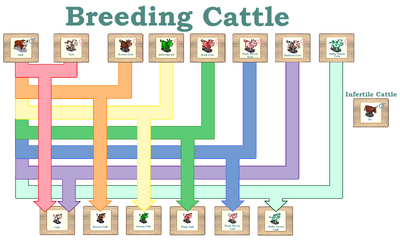 To Breed Cattle, a farmer must have a Dairy Farm. The Dairy Farm must contain at least 1 Bull and 1 Cow. The current cow breeds can be found at Cow (disambiguation).
Having more cows of a particular breed in your Dairy Farm will increase the chances of a calf of the respective breed being found. The Bull has no influence on the breed of calf produced, so the calf is always the same breed as its mother. The only exceptions to this are for the Referee cows, which both produce a plain calf. When milk is collected from a Dairy Farm, the farmer will be alerted if a calf was found. You cannot keep the calves found from your own Dairy Farms, but each calf will be available for up to 5 neighbors to adopt. Currently, the Ox, Black Yak, and Indian Yak cannot be placed in the Dairy Farm (even though, in the real world, they can interbreed with cattle and produce milk).
Transformation
Edit
The table below shows how each Calf can be obtained and what each will grow up into if it is placed in the Nursery Barn.
Announcement
Edit
The table below shows the birth announcement and parental combination for each calf.
| Image | Name | Parental Combination | Status Update |
| --- | --- | --- | --- |
| | Baby Calf | + | Player was tending their cows when an adorable Baby Calf caught their eye! This Baby Calf is already eager to explore the world on it's own and is looking for a new home. |
| | Baby Calf | + | Player was tending their cows when an adorable Baby Calf caught their eye! This Baby Calf is already eager to explore the world on it's own and is looking for a new home. |
| | Baby Calf | + | Player was tending their cows when an adorable Baby Calf caught their eye! This Baby Calf is already eager to explore the world on it's own and is looking for a new home. |
| | Green Baby Calf | + | Player was tending their cows when an adorable Green Baby Calf caught their eye! This Green Baby Calf is already eager to explore the world on it's own and is looking for a new home. |
| | Pink Baby Calf | + | Player was tending their cows when an adorable Pink Baby Calf caught their eye! This Pink Baby Calf is already eager to explore the world on it's own and is looking for a new home. |
| | Brown Baby Calf | + | Player was tending their cows when an adorable Brown Baby Calf caught their eye! This Brown Baby Calf is already eager to explore the world on it's own and is looking for a new home. |
| | Pink Patch Calf | + | Player was tending their cows when an adorable Pink Patch Baby Calf caught their eye! This Pink Patch Baby Calf is already eager to explore the world on their own and is looking for a new home. |
| | Kelly Green Calf | + | Player was tending their cows when an adorable Kelly Green Baby Calf caught their eye! This Kelly Green Baby Calf is already eager to explore the world on their own and is looking for a new home. |
| | Fan Calf | + | Player was tending their cows when an adorable Fan Baby Calf caught their eye! This Fan Baby Calf is already eager to explore the world on their own and is looking for a new home. |
| | Longhorn Calf | + | Player was tending their cows when an adorable Longhorn Calf caught their eye! This Baby Calf is already eager to explore the world on their own and is looking for a new home. |
| | Holstein Calf | + | Player was tending their cows when an adorable Holstein Calf caught their eye! This Fan Baby Calf is already eager to explore the world on their own and is looking for a new home. |
| | Robot Calf | + | Player was tending their cows when an adorable Robot Calf caught their eye! This Robot Calf is already eager to explore the world on their own and is looking for a new home. |
| | Simmental Calf | + | Player was tending their cows when an adorable Simmental Calf caught their eye! This Simmental Calf is already eager to explore the world on their own and is looking for a new home. |
| | Tuscan Calf | + | Player was tending their cows when an adorable Tuscan Calf caught their eye! This Tuscan Calf is already eager to explore the world on their own and is looking for a new home. |
See Also
Edit