The Free Fuel Week started January 4, 2010 12:00pm (PST). This was announced to all farmers with a New Year Ball present from the Holiday Tree. Each day, players are given one free fuel tank, and a bonus for each subsequent day they returned.
On January 11, 2010 it was announced by Zynga that due to various technical issues that occurred during the initial days of Free Fuel Week the event was extended through Wednesday, January 13, ending at 11:59pm PST. For farmers that had faithfully visited each day, the allotment of free fuel was reset to one free tank on the eighth day and grew to three on the final day. It was released again on April 30th, 2010, June 30th, 2010 and March 2, 2011.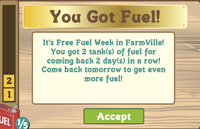 When a farmer logged into FarmVille, they saw a pop-up as shown informing them of how many free fuel tanks they have earned.
Each consecutive day a farmer logged in, they would earn additional fuel refills (so 2 for the second day, 3 for the third, etc). If a farmer missed a day, the count was reset.
A button appeared in the top left of the screen letting farmers send a 1/5 fuel refill to their neighbors. Up to 5 neighbors could receive the refill.
By logging on every day, a farmer could receive up to 7 free fuel refills. After 7, the count was reset to 1 and started all over again.
A farmer could send a 1/5 fuel refill as a gift to his neighbors.
Visit the Fuel page for the details about how it is used and replenished.
Community content is available under
CC-BY-SA
unless otherwise noted.