The Farmer is the player's avatar, who represents them when playing FarmVille. The farmer represents the player and the player's choices. The farmer will carry out any actions made by the player and will move to any position the player directs them to.
Appearance
Edit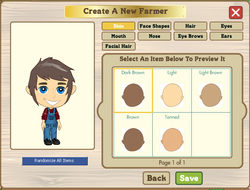 When a player starts the game, they must select the appearance of their character. The appearance may be changed later in the game by clicking the farmer. Upon opening the appearance interface, the player must select the gender of the farmer (this can be representative of the play in real life or not). Next the player must edit the following features:
Skin color
Face shape
Hair
Eyes
Mouth
Nose
Eyebrows
Ears
Facial hair (Male farmers only)
Makeup (Female farmers only)
Most of these features have many options, some with over 10 pages.
Clothing, Costumes & Accessories
Edit
The farmer's avatar can use clothing, costumes, and accessories after the October 15th update