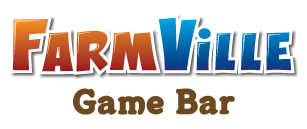 The FarmVille Gamebar is a toolbar released by Zynga that allows a farmer to keep up with their farm while away from Facebook and was in response to the similar and hugely successful Gamers Unite toolbar. Farmers with a gamebar are first to hear about game updates and the play button allows them to directly access the game. A harvest countdown timer notifies a farmer when their crops are ready to be harvested (though there are no notifications for animals or trees). If there are no crops, it will encourage the farmer to plant something. Some users have complained that the times are not correct however if even a single plot is left unharvested it will continue to show it as ready to harvest. The toolbar can also direct a farmer to other games from Zynga and has a search bar. You must have Internet Explorer 7 or higher or Firefox 3.6 or higher to be allowed to download the toolbar.
In mid-May 2010, random players started to receive a pop-up prior to their FarmVille loading screen that offered them

 25 cash to download the toolbar. After they successfully downloaded the toolbar through this link, they would receive the

 25 cash in their gift box.
Users have also found a link prompting users to download the toolbar in exchange for a Toggenburg Goat; however, it has been reported that farmers do not receive the goat.
Zynga is now only rewarding payers with

 10 cash, instead of

 25 cash.
Community content is available under
CC-BY-SA
unless otherwise noted.