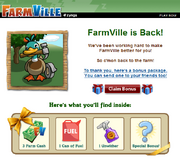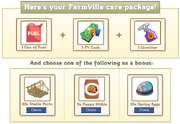 The FarmVille Care Package (or FarmVille Bonus Package) is a feature which was released starting April 15th, 2010. This package is given to farmers (by FarmVille) that have been away from their farm for a total of 7 days. It includes 1 fuel refill, 3 Farm Cash and 1 Unwither. The receiver can further choose between 10 Horse Stable materials (2 of each kind), 3 Puppy Kibble and 10 Spring Eggs. One of these three will be added to the receivers gift box together with the contents of the package. If the recipient's gift box is full it is expanded to allow all items to be received. The Care Package was released in an attempt to bring back farmers who had previously quit the game and to make returning easier.
After chosing the Special Bonus, the player can send FarmVille Care Packages to Neighbors.
Every player may only accept one Care Package. It was announced in the FarmVille forums that it may be used only once.
Care Package #2
[
]
Stimulus Care Package Updated: with a Saanens Goat instead of 10 Horse Stable Supplies / Puppy Kibble / Spring Eggs , still has 3 FV Cash. People who claimed the previous care package can also claim this one, for an additional 3 FV Cash, for a total of 6 free FV Cash.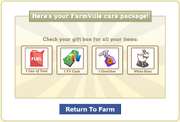 Care Package #3
[
]
In February 2012 FarmVille added new version of care package that can be sent to neighbors from free gift page. After accepting and opening this you will get 1 Large Can of Fuel, 1 Farmhands and 1 Arborists.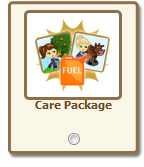 External links
[
]
See Also
[
]