Main article: [[English Countryside Departure|English Countryside Departure]]
How to get the English Farm
Edit
As of August 31st 2011, this farm is no longer available to farmers who do not already have it.
To get to the FarmVille English Countryside, players will see a notice on their farms saying "Look! Up in the sky! Something is coming this way... FAST!"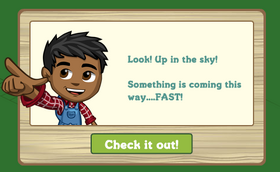 Clicking "Check it out" will trigger an animation which looks like the one below:

Duke will then arrive on the farm and say: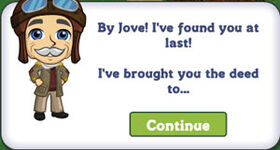 A deed which looks like the one below will be shown to the players: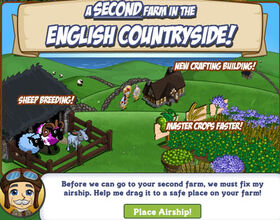 Players will then find a broken Airship in their giftbox. Placing the Airship on your farm will trigger quests to get ready for the Bon Voyage Party, but you can choose to place the airship on your farm soon when you're ready for the English Countryside. The quests can be accessed at the upper left side of your farm.

Find out about the English Countryside Departure Quest.
After finishing the quests, a Bon Voyage Party will be held before leaving. This is similar to the New Year's Party Barn. The more guests in the party, the sooner you leave!
| | | | | |
| --- | --- | --- | --- | --- |
| Guests | 0-3 | 4-14 | 15-34 | 35 |
| Leaving | 4 days | 3 days | 2 days | Immediately |
When you are ready to leave, a notice will appear in your Bon Voyage Party:

Duke will then tell you on how to get to your second farm: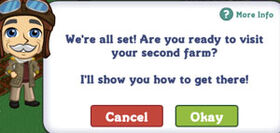 You can access your second farm (or return to your original farm), through the Airship icon on the upper right part of your farm: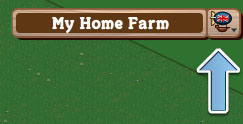 Congratulations! You now have your second farm!
To change places, click again on the icon.
At the English Farm
Edit
Once you arrive at the English Farm, you'll see some new items, such as Stone Walls and an English Cottage. Make sure you ask your friends for Mystery Gifts: the 3 firsts gifts will be a Tractor, a Harvester and a Seeder.
See Also
Edit
Community content is available under
CC-BY-SA
unless otherwise noted.