For English Countryside event items, see
English Countryside (event)
. For English Countryside (disambiguation), see
English Countryside (disambiguation)
.
English Countryside is an extension of FarmVille and is the 2nd Farm, excluding the expansion farms and mini farms. You need to be at experience level 15 or above to use this farm. This farm uses the 12x12 expansion system.
Themes
[
]
English Countryside is 1 of 8 European themed farms.
The other 7 farms are:

English Countryside is 1 of 5 Britain or English themed farms.
The other 4 farms are:
Acquisition
[
]
The subject of this article or section is part of the English Countryside

expansion

.

Not to be confused with the English Countryside Event

. The FarmVille English Countryside expansion was launched

March 22nd

, 2011! Items exclusive to this expansion are not available for purchase or placement on your original farm.

If you are not Level 20, start leveling up now!
Around March 2011; this farm was released.
You had to be a level 20 player of FarmVille to be able to participate in acquiring an English Farmyard. A promotion of it was released on February 5th, 2011. Similar to the CityVille promotion sign, there was a sign next to the farm. By clicking on it, another sign opened which said "Get ready for a whole new way to play your favorite game. FarmVille's England Expansion is coming soon. Stay tuned for news, sneak peeks, prizes and more!"
If you were not level 20 by August 31, 2011, you will not be able to access it and no cut-scene will play.
This was changed on October 3, 2012 with the Return to England Quest. Everybody who attempted these quests were granted free access to the English Countryside farm! Also the required access lever was lowered to match the quest level of Level 10, from the previous requirement of Level 20.
On November 2, 2012 this farms access was again removed to players who had not yet accessed the farm at least 1 time before this date.
On October 1 2013; Zynga made all farms including this one accessible to all players, even if you have not performed any of the required quests and never have visited this farm before. You needed to be at experience Level 15 or above to use this farm.
Updates
[
]
On April 5, 2011; Zynga made a change: instead of working at one farm at a time, the player could work on two farms at the same time. That change was really helpful for all the players, because they could plant crops at the same time, without having the pause problem.
Whenever you play FarmVille after this update is available to you, you will be greeted with the menu below that gives you two travel options. OFFICIAL BLOG
Items
[
]
The following items are locked to the English Countryside farm. See Also: English Countryside Event for items that were released to both farms.
Animals
[
]
Note: Ewes and Rams are available on both farms once that farmer has the Sheep Pen.
How to Get There
[
]
Main article: English Countryside - How to Get There
August 31st,2011
[
]
What is its significance in Farmville?
[
]
It is significant for it was the last date for the players for a whole new farming experience in English Countryside. If you were not Level 20 by that time, you had a bid good-bye to the 2nd farm. Millions of Farmers still awaited for the English Countryside's Duke to pop up again in their respective farms. But the wait was for vein. But now the wait is over. I think Zynga has heard the pleads of the farmers. He has returned back our right.
October 3rd, 2012
[
]
What is its significance in Farmville?
[
]
It is significant for it is the first date for the release of Return to England Quest. This may be rightly called as an auspicious day for those farmers who did not get their English Countryside. After waiting an whole one year, its time to get back to English Countryside.
How to get back there?
[
]
To get to English Countryside, you need just to click on Continue, when the Duke pops up to teach how to get there? And there it is, you are in English Countryside. You will find few trees and sheep and withered plots over there. But it is far less than what Zynga has given us back.
The Village
[
]
Clicking the icon with the little map, you can open the co-op window or choose the Village Map. On the village map, the status of you and your neighbors' progress on the missions can be seen. You can also ask for help and give help via the Village Map
The first released stages are The Sheep Pen (starting with the goal Make It Your Own) and the Pub.
The Dairy Farm and The Historical Society were released on April 6, 2011.
The fifth stage appears to be a fair or circus, with multiple tents.
The sixth stage shows a barn along with some farm land next to it.
Stage 7 resembles a small town square with a fountain and buildings around it.
The 8th and last stage is Duke's Castle.
Criticism
[
]
Farm Pause
The release of the English Countryside was controversial, because in the beginning of the event, one could only work one farm, while the other one was paused. The farm that had last been visited would remain active, while the other one would be paused (crops, animal buildings, trees, puppies and crafting buildings).
On April 4 Zynga started phasing in the option of choosing whether to work on both farms simultaneously, or to only work one. This option was made available in the Travel menu used to switch between farms.
The pausing option could be useful if one still has young puppies, but cannot visit them daily to feed them. Thus by pausing the farm the puppies are currently on, they can come back at a later time and continue feeding them until they grow, without having to pay to rescue them.
Another controversial situation, is that objects, animals, orchards or buildings could not be moved from farm to farm. This was controversial because some players just wanted to equilibrate things, and putting orchards and building in one farm, and animals and crops on the other, was just a great idea that Zynga didn't realize (and in this way, every farmer could have more space on his farm).
Storage Cellar was the idea from some players to move this objects, but home farm and English farm have their own Storage. When Lighthouse Cove farm was introduced all English Countryside Quests ended. This meant that those players who had not finished all quests, were unable to plant English Countryside crops on Home and Lighthouse Cove farm (and Home Farm crops on English countryside Farm) and they were unable to transfer storable items between farms.
Shipping License
[
]
In November, 2011 Zynga introduced the English License. Players who did not finish all English Countryside Quests in time could buy it, after which they were also able to transfer items between farms via Storage Cellar and to plant all crops on both farms (This does not apply on Lighthouse Cove crops and some rare crops from the Home farm).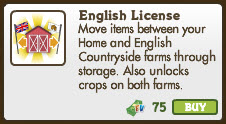 Farm Expansion
[
]
Main article: Expand Farm
English Countryside Farm Expansion Table
On the English Countryside, expansions require asking friends on facebook to be surveyors on your farm, rather than requiring you to have a given number of neighbors.
Image
Upgrade
Size 1
in Plots
Size 1
in 1x1
squares
Total
squares
Surveyors
2
Currency Costs
#
Name

Coins

Cash
-
Default Farm
12x12
50x50
2,500
-
-
-
1
English Homestead
14x14
58x58
3,364
2
25,000
20
2
English Family Farm
16x16
66x66
4,356
6
50,000
30
3
Freehold
18x18
74x74
5,476
9
100,000
40
4
English Plantation
20x20
82x82
6,724
12
200,000
50
5
English Holding
22x22
90x90
8,100
15
400,000
60
6
English Estate
24x24
98x98
9,604
20
600,000
75
7
English Expanse
26x26
106x106
11,236
25
800,000
100
8
English Domain
28x28
114x114
12,996
30
1,000,000
140
9
English County
30x30
122x122
14,884
-
1,200,000
195
10
Chipper Farm
32x32
130x130
16,900
-
1,400,000
215
11
Splendid Spread
34x34
138x138
19,044
-
3,000,000
220
12
English Vista
36x36
146x146
21,316
-
4,000,000
220
13
Measureless Manor
38x38
154x154
23,716
-
5,000,000
220
14
Vibrant Villa
40x40
162x162
26,244
-
8,000,000
220
15
Olympian Campus
42x42
170x170
28,900
-
9,000,000
210
16
Splashout Farm
44x44
178x178
31,684
-
10,000,000
210
17
Expansive Glen
46x46
186x186
34,596
-
11,000,000
210
18
Ample Acres
48x48
194x194
37,636
-
12,000,000
210
19
Emerald Estate
50x50
202x202
40,804
-
13,000,000
210
20
Mapleshade Field
52x52
210x210
44,100
-
?
210
21
Standing Stones
54x54
218x218
47,524
-
?
210
22
Mossy Knoll
56x56
226x226
51,076
-
?
210
23
Crumpet Country
58x58
234x234
54,756
-
?
210
24
Earl Grey Gardens
60x60
242x242
58,564
-
?
?
Image
#
Name
Size 1
in Plots
Size 1
in 1x1
squares
Total
squares
Surveyors
2

Coins

Cash
Upgrade
Currency Costs

All farms have two extra rows of 1x1 squares around the edge, for example, the default 12x12 plot farm is actually 50x50 squares (48+2x48+2).
On January 19th, 2012 - FarmVille removed the Surveyors requirements with the release of coin expansions for the farm.
Gallery - Slideshow
[
]
See also
[
]