The Dream Horse is an animal on FarmVille, originally released on the February 23rd, 2012.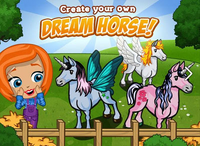 The Dream Horse is a fully customizable horse that you can create for yourself by picking out every detail. The cost Farm Cash is worked out by the choice of details used.
Farmers should have received the pop-up introducing the Horse Studio feature. When viewing inside the "My Horse Studio" will show a menu to control the design of your Dream Horse. Farmers who did not receive the pop-up can also search for the Dream Horse in the Market Place.
Create your Dream Horse from a Blank Dream Horse to your own design.
The base price of the Dream Horse is

 22 cash for the blank Dream Horse. From the Blank Dream Horse you purchase add-ons to create your own personal Dream Horse, with each accessory differing in price. As you create the Dream Horse the price increases as indicated at the bottom of the inside screen. Accessories included Tails, Manes, Horns, Wings, Colors and Effects such as Sparkles.

Once the created design is complete, the farmer has a choice to continue to purchase by pushing the "Buy and Place" button or discontinue by closing the studio.

It is not yet known whether the horse can be placed in the Horse Stable or Horse Paddock. Whether the Dream Horse will produce foals is also unknown.
Main article: Mastery
Mastery

| Mastery Level | Mastery Points |
| --- | --- |
| Level 1 | 5 |
| Level 2 | 25 |
| Level 3 | 240 |
| Total | 270 |
See Also
Edit
Community content is available under
CC-BY-SA
unless otherwise noted.