Avian Awareness

Upload File:Avian Awareness-icon.png

—Image © Zynga
Goal Information

Availability
First date available:
unknown
Last date available:
available
Description
If we hang some bird houses stuffed with wheat and hay, these little birds should be cozy all winter long!
Rewards:
Points rewarded:
 500 XP

Item reward(s)
Birdhouse Spruce
Sharing Bonus(es):
Item
Warm Bird House
Goals

Avian Awareness is the fourth goal in the Winter Badger Quest Series, released on the December 15th, 2011. To complete it, the player needs to:
Get 8 Warm Bird Houses
"These look very comfortable! They're my own design, you know!"
Skip for  30 cash
Harvest Two-Toned Cap Blackbear Once
"What a friendly Black Bear! His mother must really love him!"
Skip for  15 cash
Harvest 300 Wheat
"We'll use this extra wheat to stuff the bird houses even more! There's plenty of room!"
Skip for  10 cash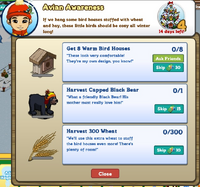 By Year
Un-timed Quests
(Quest Manager)

There are none listed at this time!

By Farm
Excluding Home Farm
Community content is available under
CC-BY-SA
unless otherwise noted.