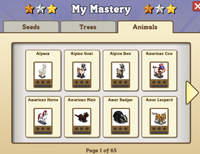 Animal Mastery was released on August 4, 2011. Players could initially master 515 animals. Similar to crop and tree mastery, animal mastery rewards Farmers with XP and coin for achieving each Level of Mastery. There are 3 Levels of animal mastery, each succeeding level requiring more animals to be harvested. The higher your Mastery Level, the better the rewards.
Upon release, there was no provision for Foals, Calves, Pigs or Sheep, however this was cited as Coming Soon.
On February 11, 2012, baby animal master was introduced.
Farmers can keep track of Animal Mastery in the My Mastery tab.
See also
Edit